Featured Item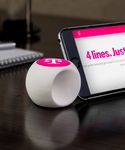 Soundbyte Passive Phone Speaker Horn Amp...
Passive silicone speaker amplifier compatible with all Apple iPhones®, including iPhone® 5. Boosts sound up to 200% (10dB) by acoustic wave guide horn system, for sound twice as loud. No external powe...
$3.85 - $3.99
Welcome!
We believe in the power of the promo.
We make promotional products work for you by using innovative products to communicate your message. It's way more than just slapping a logo on a product. With the right promotional item, amazing things can happen. One awesome product can make an emotional connection with people that makes you memorable, and helps you to look cool! You can increase sales, create change, motivate employees, and more.
If you want to learn more about how to make your promotions work for you, call us!
Look Cool. Be Memorable. Call Paperclip.